PUNE: Aatmaram and Sangeeta noticed something 'seriously wrong' with their six-month-old son's eyes, they seemed very large and blue.
The diagnosis when they took him to eye surgeons in Pune pointed at glaucoma, a vision-robbing disease affecting only the older adults.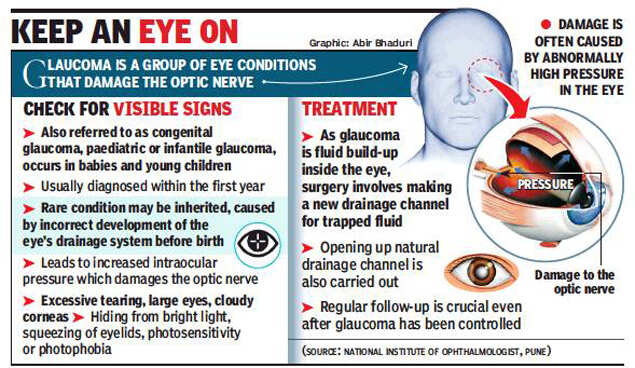 "We heard about it when our grandparents were diagnosed with glaucoma. We were shocked to know our six-month-old baby had it," they said.
Glaucoma is largely diagnosed in people older than 60 and is one of the leading causes of blindness in senior citizens. But rarely does the disease can strike infants, experts said.
The signs and symptoms of glaucoma in children are different from the adults. While an eye surgeon will be the one to definitively diagnose and treat childhood glaucoma, parents are the key to early diagnosis and treatment, experts said.
"It was a clear cut case of already delayed presentation of congenital glaucoma which needs very early surgery," eye surgeon and glaucoma exert Pankaj Bendale of the National Institute of Ophthalmology (NIO), Pune, said.
The child had photophobia (fear of light) and the eyes watered. "There was some hope. I told parents that the child needed early surgery for both eyes together under general anaesthesia," Bendale said.
They had income documents that made them eligible for availing free treatment under the indigent category at the NIO, a trust hospital.
The child underwent surgery for both eyes recently. "The baby opened his eyes and smiled the next day. The pressure in both his eyes had normalized. The front portion of the eye was clear and he could see much better than before," Bendale added
The parents were relieved and over the next month, successive follow-ups showed smooth recovery.
"Not all children with this kind of rate congenital glaucoma are lucky because of poor awareness about this disease. Timely decisions for surgery are required," eye surgeon Aditya Kelkar, director of NIO, said.
With timely treatment and periodic follow-up to monitor vision changes and other eye functions, many children can have good vision, he added.