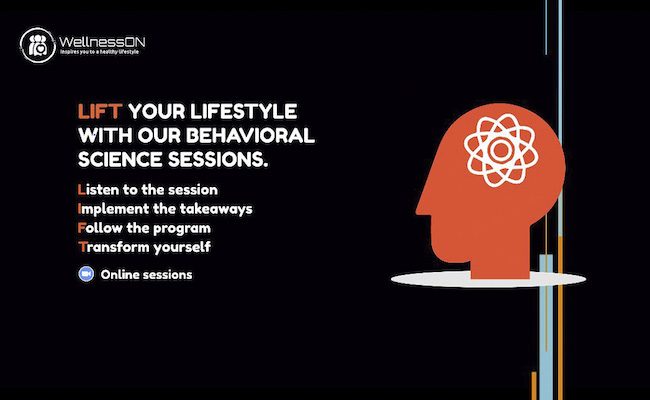 This new behavioural science-based App born in Hyderabad is your answer to long term change in your daily nutrition, mindfulness & physical activity.
In April 2018, Sandy a US Resident was at step zero of his transformative experience. He consulted his family doctor with symptoms of severe fatigue and learnt he was pre-diabetic with high blood pressure and high cholesterol levels.
Sandy says that it was a turning point of his life. "Years of hardships and personal struggle, excessive stress and poor lifestyle choices have destroyed my health and I was advised by my doctor to make big lifestyle changes."
The Journey of Sustainable Change

At that point of time, living in the US, he had access to many calorie counting apps. Little by little, he tweaked his food habits and successfully turned his health around. Soon, he realized it was not just him but many young people including his friends that were facing a similar situation. There were only the extremes of over indulgence and crash dieting. He understood that a happy medium was the need of the hour.
He started thinking about creating a resource that helps the maximum number of people make a long-term change in their nutrition and lifestyle. He also felt certain that this new system would only work if people can continue eating whichever cuisine they are familiar with.
"After my own journey with sustainable change, I understood the science behind our traditional Indian food. So, in essence, I was going back to our roots to find the solution for today's problems," he admits.
After extensive research, speaking with many people from all walks of life and consulting with behavioral scientists and nutritionists, despite many naysayers, he bootstrapped the startup with his own funds, and founded WellnessON in January 2020.
An App that brings holistic wellness to your fingertips

WellnessON is not just about calorie-counting, it helps you make a significant mind shift, be it nutrition, your daily exercise, meditation to live more mindfully. WellnessON is designed to help inspire people to lead an overall healthy lifestyle.
WellnessON works on 4 pillar concept:

Food: We recognize the importance of healthy eating and its impact to overall wellness. We also recognize that taste and health are not mutually exclusive. Hence, we work on refining food preferences and eating patterns through our app. We deliver healthy and delicious food from our kitchen to our subscribers.

Fitness: We recommend fun and innovative fitness activities to our subscribers.

Mindset: Our behaviour science sessions help you instill a sustainable and healthy lifestyle.

Community: Research has shown that weight loss and fitness works best in groups or communities. WellnessON brings like-minded people to form a group and achieve their weight loss goals, together.
Eat Swasth – our weight loss program, is designed to create awareness about one's own dietary habits. A personalized dashboard tracks the daily micronutrient and macronutrient intake and WellnessON's key features, the proprietary grading system and zero % recipes will help the user make informed decisions about their food choices within a span of 6 months. This method is sustainable and will create a shift in the user's lifestyle.
WellnessON will not give you a diet chart like a traditional nutritionist. By using this app, the user will become self-aware and self-reliant! And this kind of learning stays with you forever.
The WellnessON team ventured into health condition programs after receiving many queries from users as well as friends about special diet plans that can be adopted with existing medications. They have personalized plans for people with health conditions such as diabetes, PCOD, migraine and other conditions. Although we cannot divulge any confidential data, we are glad to convey that there are very happy users who successfully managed their health condition through their plan.
WellnessON L.I.F.T. is a structured program which helps users to get engaged to follow the weight loss program and inspire them to a healthier lifestyle. It is conducted in groups of a maximum of 15 members in a session in our studio, community and virtually (Zoom).
Approach – L.I.F.T

– Listen to the session

– Implement the takeaways

– Follow the program

– Transform yourself
Objective of the program

– User engagement with App and weight loss program

– Being part of user journey in their weight loss

– Result oriented
We are here to help and support you in your fitness journey. Reach out to us through email [email protected] or send an enquiry on our website https://wellnesson.in/contact/ we shall get back to you in 1 business day.
You can find our app on play store and apple store.

https://apps.apple.com/us/app/wellness-on/id1510810115

https://play.google.com/store/apps/details?id=in.co.wellnesson
Follow our social media pages to know myths and facts about food, fitness, everything related to nutrition and healthy recipes.
Stay Safe! Stay Healthy!
Press release by: Indian Clicks, LLC
Click Here for Latest Direct-to-OTT Releases (List Updates Daily)