Nursing school prepares students with the foundational knowledge to begin their careers, but it can't possibly provide training in every niche within the profession.
One of those niches is the perioperative and special procedural area – a world hidden behind double doors with a severe admonishment that only authorized personnel are allowed. But with a shortage of operating room nurses, administrators at MUSC Health are working with the MUSC College of Nursing to create one-day rotations to give nursing students the chance to see operating room and special procedural area nurses in action.
"We have to provide more exposure so we can recruit new nurses," said Christy McEachern, R.N., executive director of nursing for Perioperative Services and Procedural Areas.
Although students have in the past had the opportunity to observe a surgery, Melody Reibel, Ph.D., R.N., lead faculty in the accelerated Bachelor of Science in Nursing program, wanted to ensure that students would see the patient's entire surgical experience from beginning to end.
"Having the opportunity to be in the perioperative area, to actually be there and see the preoperative experience, the operative experience and the post-operative experience, has been wonderful because then they can really put all of the pieces together and understand the whole nursing process," she said. 
"I feel very fortunate that we have this opportunity and developed these relationships with the hospital and the perioperative areas because it is important that students are aware there are other areas they can go into, other than the medical-surgical area."

Melody Reibel, Ph.D., R.N.
lead ABSN faculty
Students get a chance to talk to the patients before surgery and watch as the nurse does all the pre-surgery checks and makes sure patients are fully informed. After surgery, the student accompanies the patient to the recovery area.
The first cohort of students went through the rotation during the spring 2021 semester, observing in the catherization lab, a robotic surgery suite and a traditional open surgery suite.
The rotation was Colleen Kinslow's favorite day of the semester. She got to observe a craniotomy and an above-the-knee amputation.
"I found it to be an incredible experience," she said.
Even though Kinslow previously worked at a hospital and shadowed nurses before applying to nursing school, she admits that her ideas about the operating room were still mostly formed by TV and movies. But during this rotation, she was able to follow and ask questions of the circulating nurse and nurse anesthetist.
Kara Simpson, DNP, R.N., director of nursing excellence at MUSC Health, said recruitment of operating room nurses has typically been of the "friend of a friend" variety. She herself ended up working in the OR when she moved to a small town in Arkansas and that was the only opening.
She fell in love with the operating room. But, she said, it's not typically a role that would-be nurses envision.
"In my experience with nursing students, most of them think of nursing as floor nursing. You clock in, you pick up your patient assignments, you administer medications, you perform your assessments, dressing changes, all those kinds of tasks," she said.
The operating room is a little different.
"It's your room as an OR nurse. The surgeon is doing the procedure; the anesthesia team is responsible for making sure the patient's life functions continue. But the operating room nurses are responsible for that room," Simpson said.
That means ensuring that sterile procedures are followed, managing all nursing care, communicating with the family as well as other areas of the hospital and documenting the surgery.
"It can be a stressful environment to work in because there's a lot riding on it. There's a lot of responsibility there, and you need to be able to have a high degree of understanding and anticipation – based on the clinical presentation of the patient, based on what the provider has ordered as far as the procedure – anticipating what they are going to need in that room for any circumstances that might come up," Simpson said.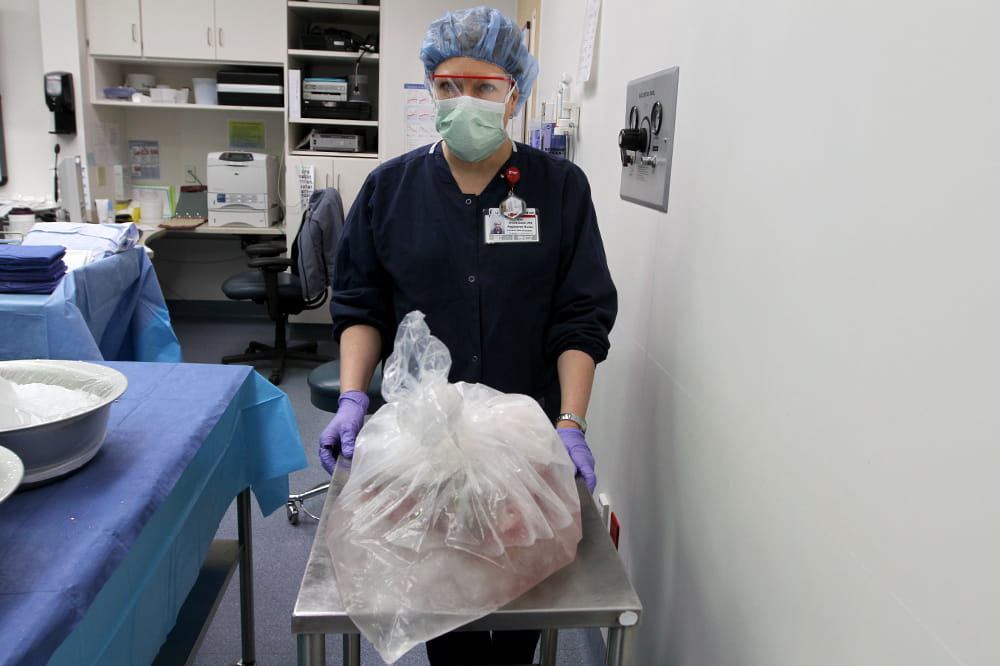 Nurses who are new to the OR go through a six-month orientation, but it takes at least a year to become comfortable with the role, McEachern said. It can take two to five years to become proficient at multiple specialties.
"It has become so specialized in so many areas, like vascular and cardiac," McEachern said. "There's so much specialization in each particular area, so it's even harder to get people fully competent in all areas, whereas back in the day, you could have an OR nurse who could go and scrub in or circulate for anything. That's almost impossible to do now."
COVID has worsened an existing nurse shortage. Some of the experienced nurses who otherwise would have worked for several more years instead decided to retire, McEachern said. MUSC Health has at times hired international nurses, but it can take up to a year to get a foreign nurse into the hospital.
Licensed practical nurses can be trained for the scrub nurse role – the nurse who stands at the table and hands instruments to the surgeon – but the circulating nurse role must be filled by a registered nurse.
And it's not just nurses who are in short supply. McEachern said the local schools that trained surgical techs have closed those programs, leaving hospitals without a nearby source of new graduates.
"It's just an overall shortage of people going into health care, period," she said.
The operating room places additional demands on nurses. They can work long hours – a nurse on the transplant service, for example, could work all day and then have to work all night. They rotate onto disaster teams that camp out at the hospital during hurricanes or other emergencies.
They must also take call, which means being able to get to the hospital within 30 minutes of being paged – and that touches on the regional issue of affordable housing.
"That's becoming difficult, to find people who can afford to live within that 30-minute radius of the hospital for call," McEachern said. Administrators have started to consider creating call rooms within the hospital for people to rest while on call.
In the meantime, with this new clinical placement, about 90 students each semester are being exposed to operating room nursing.
"There are so many opportunities in nursing. What's great about this experience is it opens them up to different opportunities," said Reibel, who coaches the students to particularly observe how the interprofessional team within the OR works together.
Kinslow, who was already leaning toward the emergency room or trauma care, said the experience strengthened her interest.
"It was honestly, if anything, more affirming that I want to continue down that path of ER, trauma care, wound care, anything of that sort," she said.
Reibel has heard only positive reactions from students.
"I feel very fortunate that we have this opportunity and developed these relationships with the hospital and the perioperative areas because it is important that students are aware there are other areas they can go into, other than the medical-surgical area," she said. "So I feel very fortunate and grateful for that. And I know the students do, too."