An advocate of wellness and mindfulness, Sophia Rose (also known as @wellnesswithsoph on Instagram) is all about having a good time. From vegan and gluten-free recipes to everyday journaling, the creative has built a space where she exchanges with her community tips on seeking happiness and tranquility in our lives. "It really started for me out of necessity," Sophia explains how she came to build a platform that pushes for positivity. On top of her online presence, the influencer has also released Paradigm Shift, an e-book filled with journal prompts and exercises to help lead a happier life.
In the latest installment of our Beauty Essentials series, Sophia tells HYPEBAE all about her beauty and wellness journey. Continue reading for her favorite skincare, makeup, hair and body products.
Sophia Rose's Beauty Essentials
Skincare
Drunk Elephant Protini™ Polypeptide Moisturizer: I have a combination of oily and sensitive skin and I swear by this moisturizer. I've repurchased this one quite a few times now.
Elta MD Sunscreen: The only sunscreen that doesn't make me feel oily. I swear by this one!
Youth To The People Superfood Antioxidant Cleanser: This makes my skin feel so refreshed, like a green juice for your face.
Tea Tree Oil: I swear by this stuff for pimples. Just dilute with a little water and I'm good to go.
Body and Haircare
Crown Affair Hair Oil and Brush: The oil is so nourishing. I apply it on the ends of my hair post-shower.
Nécessaire Body Wash "Sandalwood": This smells like a dream. Every time I use it in the shower, it makes me feel so luxe.
Makeup and Fragrance
Glossier Cloud Paint: The perfect rose blush color. I put it over the bridge of my nose and cheeks for a sun-kissed vibe.
Kosas Tinted Face Oil Foundation: It sits so well on the skin and gives the perfect amount of coverage.
NYX Suede Matte Lip Liner "Soft Spoken": My go-to color since high school. It's the perfect nude mauve shade.
Le Labo Thé Noir 29: My favorite scent. It makes me feel so sexy.
Marc Jacobs O!mega Bronze: A classic, but I love this one. It's so warm and makes me feel like Italy in the summer.
How do you think wellness connects with beauty?
I think wellness and beauty really go hand in hand. They can almost be interchangeable at times for me. Taking care of yourself, your skin, your mental health, being playful, being kind to yourself and so on — that's beauty. That's wellness.
Tell us a little bit about your journey to creating the platform that you have now. What inspired you to spread positivity through wellness and making food?
Well, it really started for me out of necessity. I was down and out and have dealt with mental health for many years, so I decided to really shift my life and document it. That's where the platform kind of flourished. It became therapeutic to bake, to write, to work out and to honestly just share my life. The more I shared, the more of a community I made, and the more fun I really got to have with it. It's been a rather natural growth and I'm just happy to be here sharing, learning and connecting honestly.
What messages do you hope to deliver through your platform?
Be intentional. Find what a healthy life looks like to you. Experiment! Ask yourself questions. Be curious. Be kind to yourself and others. Being a good person is so tight. Taking care of yourself is tight too. I also really want people to feel like they're inspired and jazzed by their own life. I want them to feel like the hot main character. I always say, "being hot is a state of mind," and I believe in that wholeheartedly.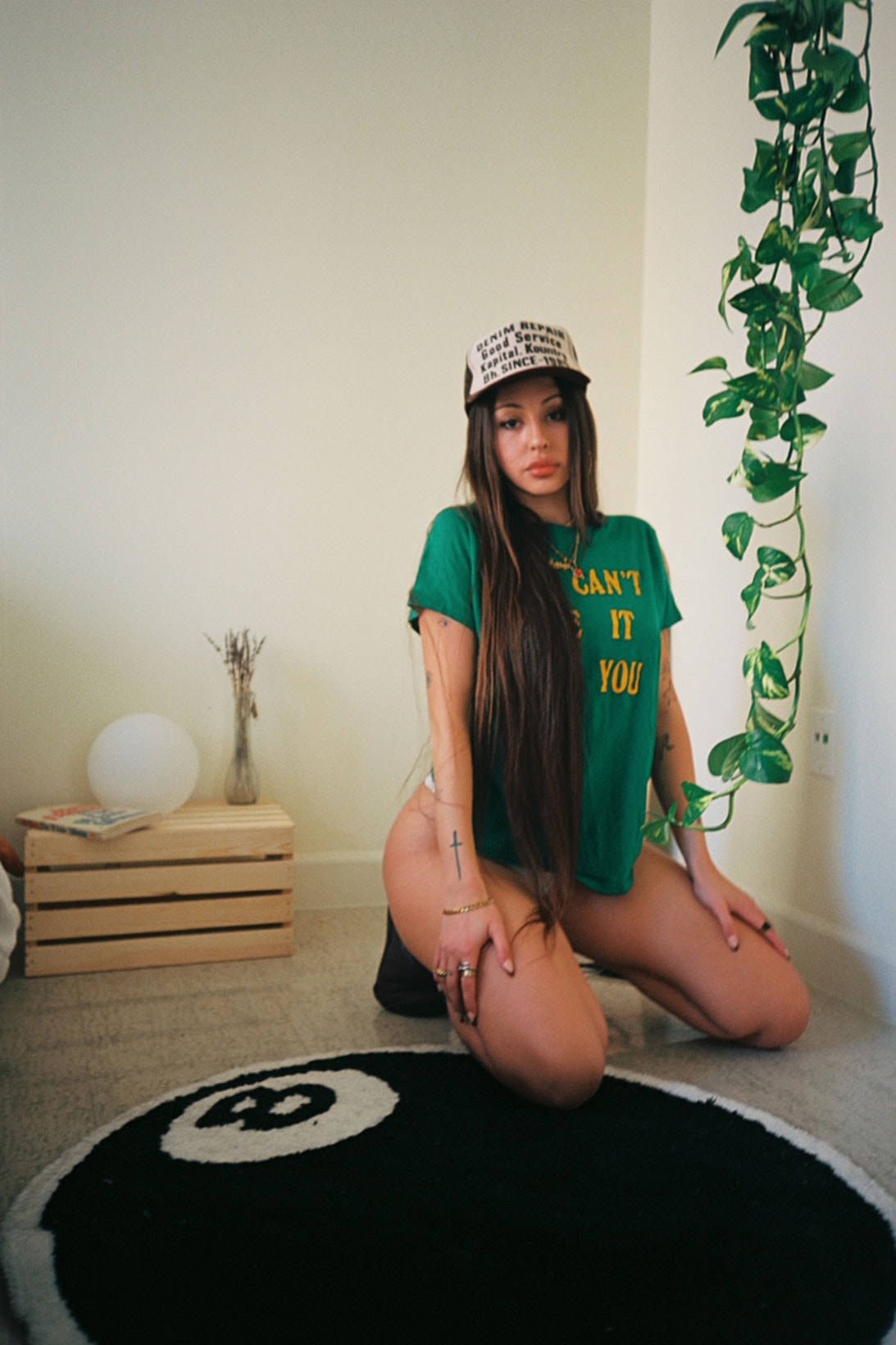 What has a day in the "new normal" life looked like for you recently?
A day in the life for me now has really been a mix of my routines that keep me grounded with a mix of spontaneity. The duality is what keeps me sane. My day usually starts at 7 to 8 a.m. I wake up, drink a glass of room temperature chlorophyll lemon water (game changer for skin, FYI) and do some sort of workout — usually pilates. I have been enjoying home workouts this last year and keeping with AM movement has been so important for me.
Then I shower, sometimes put on a face mask, make coffee and have a very large smoothie, which is my go-to breakfast. The rest of the day is filled with Zoom meetings, creating content, designing, shipping and so on. I also see a few close friends often or FaceTime a lot. It helps me feel connected. I love taking long walks to unwind in the evening. I always play a lot of music or listen to podcasts too. I always try to do something new every day though. My day usually ends with a bath, cooking or comedy shows.
Who are some people you look to for inspiration and why?
This is so hard. I get inspired so easily. My dad is number one, though. He's just a boss. He's so cool. Nothing phases him and he also is so intentional and levelheaded, it's admirable. I even have a "Dad" tattoo in honor of him.
I'm also inspired heavily by Sophia Roe. She has changed how I view food and is an amazing chef. Rap music as a whole too — Young Thug specifically. It helps me get out of my head. Lastly, probably '90s-era Angelina Jolie. Especially beauty-wise — thin eyebrows, big lined lips, dark wild hair. Vixen energy, I love it.
Can you walk us through a beauty regimen that you swear by?
Ice rollers are a complete game changer. They're like $15 USD online. You keep it in your freezer and [upon rolling it on your face], it immediately makes you look depuffed and fully rested. I use it every morning. I've also been loving tons of light moisturizers like Drunk Elephant's polypeptide cream and Kiehl's night serum.
For makeup, I've been really into blush for a sun-kissed look and lip liner, always. Those are probably my two staples. A good bronzer too. I feel like I'm just really into looking healthy and glowing — "my skin but better" type of thing.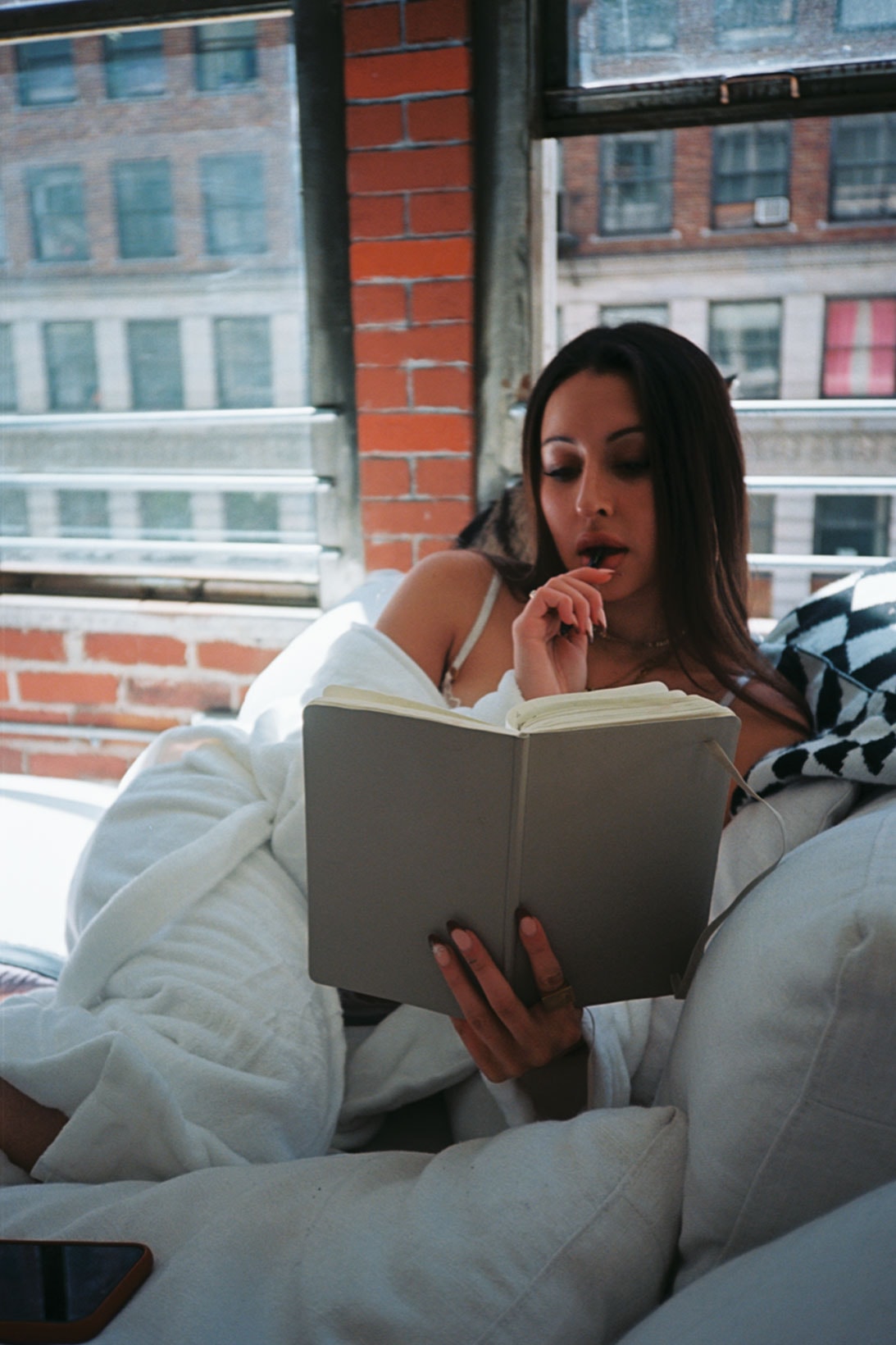 What inspired you to launch the Paradigm Shift journal e-book?
I made this journaling e-book to reconnect with myself. I'm in my early 20s, which can be a weird time. There's so much happening and it's easy to feel really lost and just out of sorts. I worked on it for months, using the prompts as I wrote them and it changed my life. It created a literal shift in me and I wanted others to feel the same thing. I wanted it to be a guide that is timeless. Introspection and self-awareness never go out of style. It's forever, and having a writing or journaling practice is a great way to work on that.
What are some other projects you hope to work on in the future?
I would love to do a bit of everything. I'm an artist at my core, so definitely more creative things. Designing — maybe clothes, maybe a beauty product. I would also love to start a podcast, create a Netflix TV series or even make a coffee table book. Maybe all of the above. I have a lot to say, I have a lot I want people to see. I can't wait.